The Wake Forest travel program features a variety of different trips & experiences available to alumni, parents, families, and friends at an exceptional value.
Explore. Learn. Relax.
Whatever you're looking to do, we can help. Just pick a destination and we'll take care of the rest.
---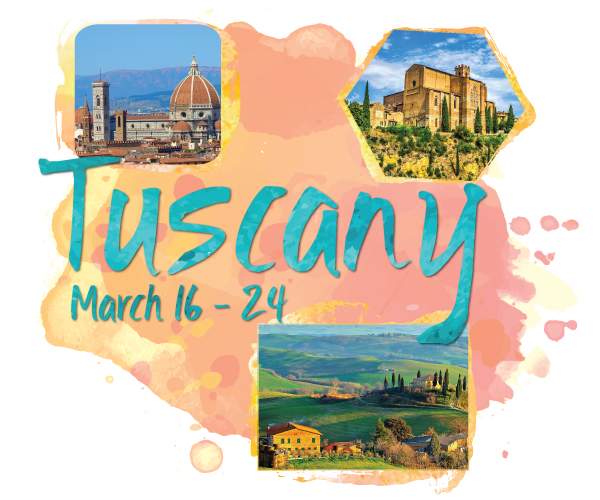 March 16 – 24, 2018 – Capacity Reached
From $3,099 per person, double occupancy (airfare included)
9-day tour
Explore the treasures and tastes of Tuscany through custom-made experiences that capture the serene culture and essence of rural Italy.  This unforgettable journey anchors itself in the picturesque village of Montecatini, where we relax in deluxe hotel accommodations every evening.  Daily excursions throughout Italy's countryside include: Pisa, to tour its iconic Leaning Tower; Lucca, a city whose Roman origins are still evident today in the grid patterned streets and eleventh-century Duomo; the Renaissance city of Florence, where we have personal-guided tours of the Academy of the Arts and other local gems.  We exercise our taste buds with adventures into the charming village of Pienza, where we delight in a personal tasting of their world-renowned sheep's milk cheese, Pecorino; as well as Montalcino, to tour a local wine cellar and sample various house wines.  Rounding out our experiences throughout Tuscany, we encounter the medieval town of San Gimignan and the tranquil village of Siena, touring impeccable structures such as the church of San Domenico, Loggia della Mercanzia, Piazza del Campo, and the Palazzo Publico.  This nine-day journey through Tuscany is ideal for the traveler who delights in incredible food, vibrant culture, and unforgettable experiences, that extend beyond the normal tourist's itinerary.  Please don't miss out on this opportunity.  Buon viaggio!
---
June 9 – 16, 2018 – Limited Space Still Available
From $4,599 per person, double occupancy (airfare included)
8-day tour (exclusively for WFU Alumni, Parents, and Friends)
Iceland is not a destination; It is an adventure.  Join WFU Alumni & Friends in June 2018 to experience the stunning Icelandic landscape and vibrant culture of the Icelandic people. This once-in-a-lifetime opportunity begins in the capital city of Reykjavík, where underground thermal springs provide midnight sunlight, temperate climate and vibrant green foliage during the summer months.  Accompanied by our own Professional Tour Manager for the entirety of our tour, we embark on remarkable expeditions to include: Exploring incredible wonders of nature such as, the UNESCO World Heritage site of þingvellir National Park; Laugarvatn Fontana, where we experience a geothermal bakery; Iceland's Geysir and Strokkur hot spring; Gullfoss Waterfall, a dramatic two-tiered cascade of crystal-blue water; and the strato-volcano, Eyjafjallajökull, whose eruption in 2010 left Iceland's countryside changed forever.  Other exciting excursions include enjoying a dip in the famous Blue Lagoon, a unique wonder of nature with pleasantly warm, mineral-rich water surrounded by a black lava field; discovering the marvels of Iceland's extensive cave system with a local guide; and participating in a hands-on cooking experience at the renowned Salt Eldhus, led by skilled Scandinavian chefs.  Experience the strong traditions, impeccable nature and overall adventure that is Iceland in the eight-day tour.
---
November 2 – 10, 2018 – Limited Space Still Available
From $3,399 per person, double occupancy (airfare included)
9-day tour
It is time to experience the Island with Forty-Shades of Green like you never have before.  Blanketed in rich history, hearty gastronomy and diverse landscapes; Ireland is a country of sharp contrasts and vibrant cultures that encourages exploration.  Our WFU Alumni & Friends Tour takes us to the Emerald Island during its peak season of foliage and greenery in November 2018.  We overnight in the eclectic cities of Galway, Derry and Dublin, with daily excursions to jewels of the island which include: The Irish National Stud and Japanese Gardens; Achill Island and Westport; and the Marble City of Kilkenny.  Memorable jaunts throughout our stay include: Visiting the world-renowned Belleek Pottery to observe this century-old Gaelic artistry; touring Derry's Walled City Brewery with a personal guide and culminating with a tasting of choice beers; participating in a cooking demonstration and tasting at the famed Mourne Seafood Cookery School while overlooking Kikeel Harbour; visiting Trinity College and observing its Old Library which house the Book of Kells; and rounding-out our true Irish experience with a tour and tasting at Teeling Whiskey Distillery in Dublin.  This nine-day tour will surely evoke the luck of the Irish, not to mention the thrill of the Deacs.