The Wake Forest travel program features a variety of different trips & experiences available to alumni, parents, families, and friends at an exceptional value.
Explore. Learn. Relax.
Whatever you're looking to do, we can help. Just pick a destination and we'll take care of the rest.
---
January 3 – 13, 2018 – Only seven spaces available!
From $7,500 per person, double occupancy (airfare not included)
11-day tour
Discover the roots of humanity — come to the Turkana region of Kenya on a 10-day learning adventure with Dr. Ellen Miller, Wake Forest University Professor of Anthropology, and immerse yourself in the story of ape and human evolution, in the place where our ancestors evolved. Journey overland from Nairobi to the Mpala Research Centre in central Kenya, home to an impressive array of African wildlife, and a place where elephants, rhinos, wild dogs, giraffes, and big cats are commonly sighted. Fly by private plane to the west side of Lake Turkana, where our base of operations will be the Turkana Basin Institute (TBI) research station at Turkwel. At TBI, settle into comfortable cottages which feature all the modern amenities. Mosquito nets, towels and bedding are provided, and food is fresh and plentiful. Dietary restrictions can be accommodated with advanced notice. Learn about important fossil discoveries and visit some of the famous sites where these finds were uncovered, including the Miocene fossil forest of Napudet, where Alesi, the most complete fossil ape skull ever known was discovered.  Relax in the evenings with a swim in the Turkwel river and sundowners on the veranda. From Turkwel head across the lake to the TBI research station at Ileret, located close to the Kenyan-Ethiopian border, and spend an afternoon in the village of Ileret, a largely pastoralist Dassenech community. After an evening's rest, enjoying the breeze and the spectacular views of Lake Turkana, we'll resume the life of a field paleontologist, heading off to search for fossil monkeys and apes at Dr. Miller's field site, "Buluk". When we return from Buluk, we'll start work in the lab, learning first-hand how to clean and prepare fossils for scientific study. You'll be living, working, and learning in the place where world renowned scientists, such as the famous fossil-hunting family the Leakey's, have made, and continue to make, the groundbreaking discoveries that shape the way we understand the origins of ourselves and our closest relatives. Join us on this academic safari.
---
March 16 – 21, 2019
From $2,499 per person, double occupancy (airfare included)
6-day tour
Experience California's Wine Country like never before on this year's intimate tour relishing in some of the best-kept secrets of the valleys. Known worldwide as a premium wine-growing region, California's Wine Country is famed for its 600-plus wineries, impeccable cuisine, Michelin Star restaurants, boutique hotels, luxury resorts, historic architecture, and eclectic culture.
This six-day, five-night excursion captures the essence of the Wine Country, making the most of each day with the following private vineyard tour & tastings:
Lafond Vineyard, Santa Barbara
Riverbench Vineyard, Santa Barbara
Guided Wine Tours, Santa Barbara
Taste of the Valleys, Pismo Beach
Sans Liege Wines, Pismo Beach
Please register yourself and your travel companions now for this incredible experience as space is limited! (Please use Tour Code WFU009 when submitting registration.)
---
June 8 – 15, 2019
From $4,599 per person, double occupancy (airfare included)
8-day tour
It is time for the Demon Deacs to trade our top-hats for hiking boots and travel to unforgettable, Iceland.
Iceland is not a destination; It is an adventure. Join the WFU Alumni & Friends in June 2019 to explore the stunning Icelandic landscape and vibrant culture of the Icelandic people.
We will embark on remarkable expeditions including:
Exploring the UNESCO World Heritage site of þingvellir National Park
Delight in a geothermal bakery at Laugarvatn Fontana
Journey to Iceland's impeccable Geysir, Strokkur Hot Spring, Blue Lagoon and Gullfoss Waterfall
Discover the marvels of Iceland's extensive cave system
Participating in a hands-on cooking experience, led by skilled Scandinavian chefs, at the renowned Salt Eldhus
Please register yourself and your travel companions now for this incredible experience as space is limited! (Please use Tour Code WFU010 when submitting registration.)
---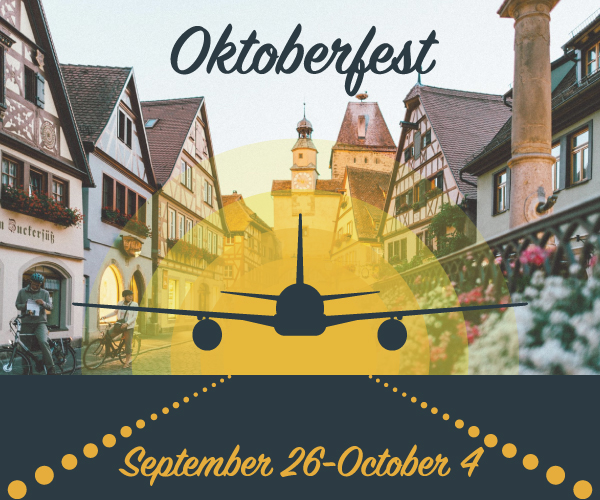 September 26 – October 4, 2019
From $3,999 per person, double occupancy (airfare included)
9-day tour
Blanketed in rich history, hearty gastronomy and diverse landscapes; Germany is a country of sharp contrasts and vibrant cultures that encourages exploration & celebration!
With overnight stays in the eclectic towns of Innsbruck & Munich, we will also enjoy sight-seeing & excursions which include:
Guided Tour of Mittenswald & Innsbruck, visiting the city's greatest gems of Old Town, Golden Roof, & Hofburg Palace
Guided Excursion to Salzburg, touring St. Peter's Abbey, the House of Mozart Museum, Mozart's Birthplace, Cathedral Square & Salzburg's Old Town.
Guided Excursion to Hohenschwangau, where we visit Neuschwanstein Castle
Guided Excursion to Oberammergau – home to the upcoming 2020 Passion Play
Guided Tour of Munich, visiting Marienplatz, Asamkirche, Frauenkirche Church, Town Hall, and Ludwigstrasse
Guided Excursion to Dachau Concentration Camp
Please register yourself and your travel companions now for this incredible experience as space is limited! (Please use Tour Code WFU011 when submitting registration.)