As Deacon fans paint Nashville the *right* shades of black and gold on Saturday, September 10, there is plenty to do in the Music City during your visit! See below for a wide variety of food, drink, activity, and live music options for all ages, recommended by Wake Forest locals.
---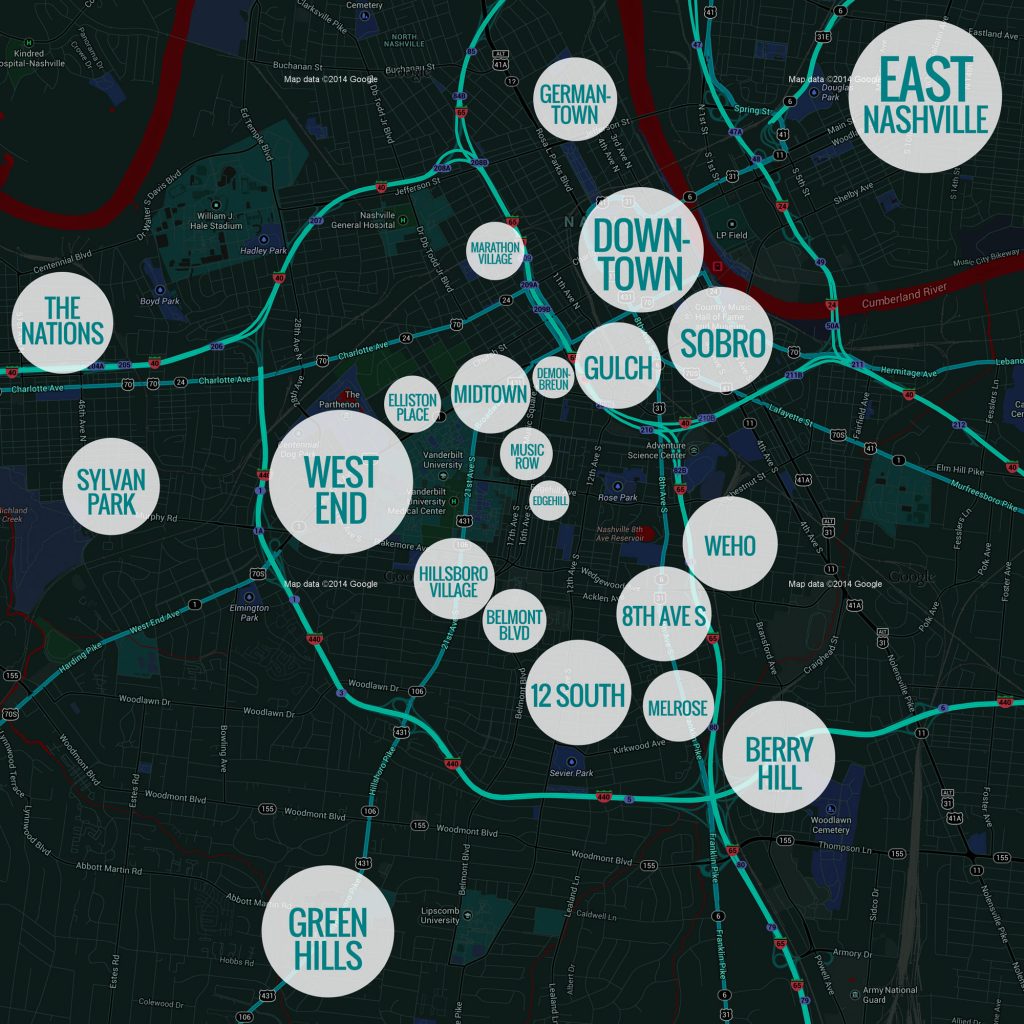 Browse by neighborhood:
Martin's BBQ – great atmosphere
ACME – dinner, bar, music
The Southern – good happy hour on weekdays
Fifth & Broadway Assembly Food Hall – good for under 21 to experience downtown without going into the bars. Tecovas on the street level has great boots. Take your food out on the balcony across from the Ryman to hear music while you eat. Lots of great local restaurants for lunch or a casual dinner. Go up to the Skydeck for fire pits, igloo seating, great views, and sometimes live music.
Puckett's – Southern bar & grill with an old-general-store feel & a large stage for live music acts
Halls Chophouse – American fine dining
Bourbon Steak – excellent steakhouse with a fabulous view of downtown
Ryman Auditorium – a Nashville classic where country music began; seats in the front of the balcony are best
Robert's Western World – known for their late-night fried bologna paired with a cold PBR, a prototypical honky-tonk
Layla's Bluegrass Inn – another honky-tonk, offers more than just bluegrass
Tootsie's – a Nashville country music institution and world-famous honky-tonk
The Stage – a unique experience of live music with a dive bar atmosphere
Country Music Hall of Fame
National Museum of African American Music
Bridgestone Arena
Music City Indoor Karting
BATL axe throwing
Pedal Tavern
Nash Trash Tours – not so kid-friendly; must book far in advance
Second Avenue shops – bargain boots
Wildhorse Saloon
Virago – sushi
Saint Añejo – Mexican
Whiskey Kitchen
Milk and Honey
Burger Republic
M Street Restaurants – this is a company, not a street; all are good!
Adele's – good for dinner
Husk – good for dinner
6th & Peabody – features a distillery, brewery, bars, tasting areas, beer and bottle shops, merchandise, big-screen TVs, and live entertainment
Pinewood Social – food, coffee, swimming pool, and bowling
Peg Leg Porker – BBQ
Listening Room – music and food, under 21 friendly
Station Inn – intimate bluegrass venue with seats first-come-first-served; Sunday afternoon gospel and Sunday night bluegrass jam are best
6th & Peabody
Listening Room
Pinewood Social – swimming pool and bowling
Pins Mechanical – arcade games, duckpin bowling, pinball, and other games; always 21+ after 8 pm
White Duck Taco
Prince's Hot Chicken
Old Smokey Distillery
City Winery
5th & Taylor
City House
Germantown Cafe
Optimist – seafood
Tailgate Brewery – all-ages, dog-friendly patio, open-concept taproom and scratch pizza kitchen
Taqueria Del Sol – good lunch place, the line moves fast
Jeni's – ice cream
BarTaco – good patio
Franklin Juice Co – acai bowls
Five Daughters Bakery – donuts
12th South Taproom – music, beer, good food
Frothy Monkey – classic Nashville coffee shop; great breakfast/lunch
Edleys BBQ
Burger Up
Urban Grub
MAFIAoZA's – classic pizzeria
Wanna Spoon Cereal Bar – new cafe with coffee, cereal, and ice cream!
SATCO – TexMex, a Nashville classic; a great place to sit outside and watch football
Pancake Pantry – another Nashville classic; the line can get long
Biscuit Love
McDougal's Chicken
Cabana – good restaurant for a group; reserve a cabana (private booths inside the restaurant)
Taco Mama
Grilled Cheeserie
Nicoletta's – casual pasta
this area has several cute boutiques
UAL – a clothing outlet with all price points
Pfunky Griddle – make your own pancakes
Sinema – restaurant in an old movie theater
Sunflower Cafe – great vegan food
Rosepepper Cantina – often a long wait, but margaritas are a local favorite
Jeni's – ice cream
The Pharmacy – burgers, outdoors seating
Pomodoro East
I Dream of Weenie – yes, hot dogs
Mas Tacos Por Favor – lunch spot
Five Points Pizza
Bongo East Coffee & Board Game Cafe – open 7 am – 10 pm
Rice Vice by Proper Sake Co. – new bar showcasing Japanese imports and sakes
Emmy Squared Pizza
The French Shoppe – great boutique; broad price range and a large selection
Cumberland Transit – local favorite outdoors store
UAL – clothing outlet with all price points
Centennial Park & Parthenon – visit Athena, the largest indoor statue in the USA; Musicians' Corner offers free music, and there are often events and festivals in the park; great walking trails
Hattie B's – hot chicken
Bobbie's Dairy Dip – outside seating; only open during the summer
51st Deli – great sandwiches
Avo – breakfast
HC Coffee Roasters
Frothy Monkey – yummy brunch; prepare for long lines
L & L Market – old warehouse divided into restaurants and stores
Able – great boutique for a good cause; beautiful leather goods and cute jewelry
Project 615 – cute Nashville t-shirts
Nations Boutique
Coco's Italian Market
Cava
True Food
The Perch – breakfast
Green Hills Grille – broad menu
Char – sometimes artists (or singers to those of you outside Nashville) eat here on weeknights
Bluebird Cafe – music venue; must make reservations
Green Hills Mall – upscale stores
Gus Meyer – old Nashville boutique
D2 – great trendy shopping
The Mill – another shopping favorite
Private Edition – makeup, gifts, spa services
Woo – makeup and gifts
Yearly Co. – specializes in gold bangles to mark special occasions
K. McCarthy – beautiful boutique
Hill Center – several cute boutiques here, too
Opryland Hotel – not a convenient place to stay but entertaining to walk around
Grand Ole Opry
The Hermitage – President Andrew Jackson's home; great tour for history lovers
Browse by activity:
Murals – would it be a trip to Nashville without a photo op in front of one of the many impressive murals? Stumble upon them on your own or plan ahead here!
The Hermitage – President Andrew Jackson's home
Travellers Rest – historic house and museum
Cheekwood – 1930's home with an art museum, gardens, and lots of special events and activities
Nashville history walking tour
Tennessee Capital Grounds
Downtown Presbyterian Church – Egyptian revival style; worth the 5 minutes to see!
Belle Meade – a beautiful area to drive through and admire gorgeous homes
Belle Meade Mansion – Greek Revival-style plantation house & grounds dating to the 1840s, with a winery & event spaces
City Cemetery
Frist Museum – rotating art exhibits, housed in the city's historic U.S. Post Office building
Downtown library – lovely interior courtyard where you can take lunch from Provence restaurant inside the library
Schermerhorn Symphony Hall
The Men's room at the Hermitage Hotel (downtown hotel, not the house) – voted the prettiest bathroom in the country; afternoon tea at the hotel
Nashville Zoo
Zanie's
Third Coast Comedy Club
Paddle Up or Nashville Paddle Company – standup paddle boarding and kayaking on the Cumberland River
Percy Warner Park (Belle Meade) – walking the steps is a classic Nashville workout; a great place to walk around on the trails or road
Radnor Lake – another park option
Treetop Adventure Park
Predators (NHL)
Titans (NFL)
Nashville SC (MLS)
Nashville Sounds (MiLB)
Elvis's Graceland in Memphis (3 hour drive)
Jack Daniel's Distillery (1.5 hour drive, reservation required)
Miss Mary Bobo's Boarding House (1.5 hour drive, reservation required)
Mammoth Cave in Kentucky (1.5 hour drive)
Dollywood (3.5 hour drive)
Downtown Franklin (30-40 mins south of Nashville)

eat at Puckett's or Red Pony
local shops and restaurants (try The Barn or PDs)
old movie theater
Civil War Battle of Franklin history
Carnton Plantation
Carter House
Browse for your morning or evening beverage needs (we'll let you decide which is which!)
Coffee House (Franklin)
Americano Lounge
Dose (West End)
Ugly Mugs
Frothy Monkey (Nations & 12th South)
8th & Roast
Portland Brew
Caliber Coffee
White Bison (Nations & 12th South)
Hearts Nashville (East Nashville)
The Well
Bongo Java
Barista Parlor
Crema (take a coffee-making class!)
Revelator
The Graduate Hotel
Three Brothers' Coffee (West End)
Headquarters Coffee (Charlotte Avenue)
HC Coffee Roasters
Sump Coffee
Stay Golden
Melrose
Thompson Station Hotel (The Gulch)
LA Jackson
Bobby Hotel (Downtown)
L27 (located in the Westin in the Gulch)
FLGA Line House
Nashville Sporting Club/Paradise Park
Barcelona Wine Bar
White Limozeen (rooftop bar at Graduate Hotel)
Fairlane Hotel
Dream Hotel
Luke Bryan's – live music
Underground – DJ, not live music
Downtown Sporting Club – games
Kung Fu Saloon – arcade games
Hampton Social
Don't take our word for it! Visit these resources for additional recommendations and current Nashville happenings: