September 8-9, 2023
Calling all 1973, 1974, 1975, 1976, 1977 and 1978 KAs and Fideles to join us for some "Questionable Behavior" as we commemorate, memorialize and celebrate the 50th anniversary of the most significant social event in the history of Wake Forest – The Morning Mixer!
Fran (Farmer) Alexander ('72)
Tom Alexander ('73)
Bill Argabrite ('75, JD '78)
Susan Arthur ('78)
Karen Barnes
Keena Bartley
Lewie Bates ('76)
Susan (Bass) Bennett ('76)
Bob Benson ('72, JD '75)
Maureen Beto
Macky Beto ('76)
Kim Blair
Chris Blair ('77)
Barbara Bowman
Joe Bowman ('75)
James Bowman ('77, MBA '80)
Marty Britt
Karen Britt
Bill Britt ('73, MBA '76)
Tom Britt ('76)
Brooke Burr
Richard Burr ('78)
Larry Chewning ('75)
Connie Coble
Paul Coble ('76)
Emily (Smith) Cockerham ('90)
Steven Corey ('75)
Jim Cross ('76)
Tom Dawkins ('74)
Barbara (Cording) Dower ('77)
Caroline Eddy
Ben Eddy ('76)
Lynn (Hamilton) Ellis ('75)
Trevor Ferger ('75)
Pam (Giesler) Ferger ('76)
Kathy (Fleming) Gatch ('77)
Jane (Moore) Goeldner ('74)
Gay (Gayden) Gulledge ('77)
Michael Hagan
Janet (Poulos) Hagan ('75, MA '77)
Patricia (Fritts) Hartley ('74)
Stephen Henderson ('75, MALS '98)
Cindy (Foster) Hinshaw ('74)
Greg Hinshaw (JD '75)
Donald Kamenz
Ina (Blackmore) Kamenz ('77)
Becky Kersey
Don Kersey ('77, MBA '80)
Rhonda Kornegay
Rob Kornegay ('74)
Patty Laws
Richard Laws ('76, JD '79)
Gary Lindsey
Mary-Stewart Lindsey ('76)
Deborah McCann
John McCann ('76)
Mary Kay (Meredith) McCrea ('75)
Minta (Aycock) McNally ('74)
Frank McNally ('74)
Elaine Moberly
Kent Moberly ('77)
Marsha (Blackwell) Montague ('74)
Catherine Moore
Bob Moore ('78, MBA '83)
Martha (Ferger) Moriarity ('06, MBA '10)
Libby (Bethea) Patterson ('78)
Dianna Pierce
John Pierce ('76)
Chuck Pippitt ('75, MD '79)
Ann (Grim) Pippitt ('78)
Kathy Pool
Randy Pool ('77)
Robert Powell
Lydia (Currin) Powell ('75)
Ann (MacNaughton) Rawls ('77)
Jeannie (Sprinkle) Richard ('74)
Courtney (Blackwell) Robinson ('76)
Marty Rosser
John Rosser ('72)
Anne Sanford ('78, MT '79, MBA '86)
Alice Ann Sarver
Steve Sarver ('73)
Molly (Lambright) Sills ('76)
Joe Sills ('77)
Karen Simpson
Glenn Simpson ('78, MBA '80)
Mary Jo (Sisson) Sisson-Vaughan ('77)
Bud Smith ('74)
Mindy (Armiger) Stader ('74)
Leslie Stewart
Dan Stewart ('78, MBA '82)
Katherine Teague
Bill Teague ('73)
Ronald Thomas
Tamra (Wright) Thomas ('75)
Lori Thrailkill
Phil Thrailkill ('75)
Monica Tyler
Chip Tyler ('75)
Tom Vann ('74)
Steve Walk ('76)
Dori (Bendall) Walk ('77)
Dink Warren ('81, JD '84)
Beth Williams
Stubby Williams ('74)
Lucy (Greene) Williams ('76)
Margaret (Williams) Williams-DeCelles ('74)
Becky (Sheridan) Williford ('75)
John Williford ('75, MD '79)
Joe Williford ('78, JD '81)
Barbara (Weeks) Williford ('78)
John Williford ('08, MSM '10)
Ali (Butler) Williford ('09, MSM '10)
Jerry Wise
Holly (Haizlip) Wise ('75)
Tracy Wyche
David Wyche ('75)
Weekend Schedule
Friday, September 8
2:30 p.m. – 3:30 p.m.
Option 1: Guided tour of the Mark Reece Collection of Student-Acquired Contemporary Art
Space is limited.
Option 2: Guided behind the scenes tour of the Sutton Sports Performance Center, Shah Basketball Complex and McCreary Indoor Field House.
Space is limited.
4:00- 5:30 p.m.
Option 1: KA drop-in open house at the off-campus house, 801 Polo Road, Winston-Salem.
Option 2: Fidele Gathering at Zick's on the Quad where you can reconnect with friends from 1974-77. Dutch treat
7:00 – 11:00 p.m.
Morning Mixer Cocktail Dinner & Dance Party
Join us for a party at Forsyth Country Club with the Part Time PartyTime Band to dance the night away to beach music. Cocktail dinner with cash bar (real cash not credit card). Attire: Men – dress shirts and slacks, Women – slacks or dress
$80 per person
Saturday, September 9
8:30 a.m. – 9:45 a.m.
2023 Morning Mixer & Photo
A 50th reunion celebration of our "Questionable Behavior" Join friends from 1974-1977 who were in attendance at the original event in 1973 and their guest to celebrate the event. Bloody marys, screwdrivers and a light breakfast will be served on Mag Patio of Reynolda Hall. A commemorative photo will be taken at the old KA house on campus before heading to the game. Attire: Game day black & gold
$25 per person
11:00 a.m.
Kick-off for the Wake Forest vs. Vanderbilt football game. If you would like to purchase tickets in the Morning Mixer block please click here.
Saturday night/postgame
On your own for fun with friends in Winston-Salem
---
Hotel Information
Officially, the hotel blocks have ended but the two hotels may still have availability. If they are full and you still need accommodations, please view the hotel list.

---
It is obvious to us this September day in 1973 will live with the Fideles and KAs for a lifetime. The memories are compelling. We would like to honor those that are no longer with us by making a memorial gift to Wake Forest as we commemorate this infamous moment during our college careers. For more information on giving options, please click here. Gift totals will be announced in September.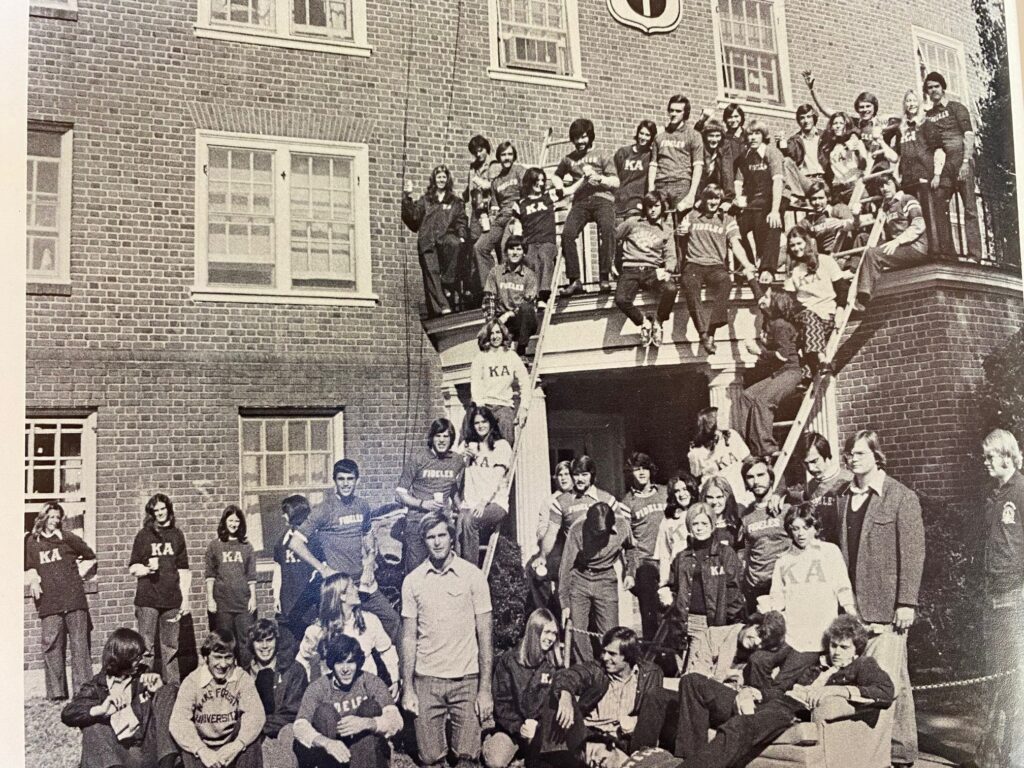 ---
Party Hosts
We would like to thank our party hosts for helping to underwrite the costs of the weekend. If you would like to be a party host, please contact Larry Chewning.

Bill Argabrite
Lewie Bates
Macky Beto
Tom Britt
Larry Chewning
Paul Coble
Lynn Hamilton Ellis
Pam Giesler Ferger
Trevor Ferger
Janet Poulous Hagan
Minta Aycock McNally
Bob Moore
John Pendergast
John Pierce
Glenn Simpson
Chip Tyler
Tom Vann
Steve Walk
Ed "Stubby" Williams
John Williford
Holly Haizlip Wise
---
Questions?
Please feel free to reach out to Emily Cockerham in the Alumni Engagement Office at cockeres@wfu.edu or to anyone on the planning committee. See you in September!
Larry "Choo" Chewning ('75) lhchewning@gmail.com
John Williford ('75) jmaxfli@aol.com
Tom Britt ('76) tomb70gto@gmail.com
Minta Aycock McNally ('74) mcnallma@wfu.edu
Holly Haizlip Wise ('75) wisehh@musc.edu
Mary-Stewart Lindsey ('76) acorns66@msn.com
Ina Blackmore Kamenz ('77) inakamenz@gmail.com
Mary Jo Sisson-Vaughan (77) mjsv77@gmail.com