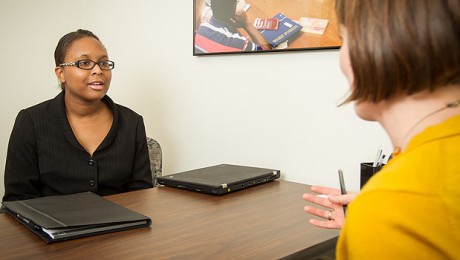 CNS 320: Strategic Job Search is a class run out of the Office of Personal & Career Development (OPCD), that partners local alumni mentors with students as they search for an internship or job. The class is held throughout the year, and has roughly 15 mentor and mentee pairings each semester.
INTERESTED IN BEING AN ALUMNI VOLUNTEER?
"Serving as a CNS 320 mentor is a meaningful but easy way to give back to WFU. The student receives the benefit of learning from the mentor's personal and professional experience. The mentor, in turn, learns from the student by reflecting on and communicating about that experience. As the student and mentor gain individually, WFU advances by passing its collective knowledge and perspective to future alumni who use it to positively impact their communities fulfilling the Pro Humanitate promise."
— Charlie McCurry ('05, JD '08), former CNS 320 mentor
If you would be interested in serving as an alumni mentor in the 2015-2016 school year, or mentoring a student over a winter or summer break, please reach out to Megan Bosworth. The Office of Alumni Engagement provides all the communication, logistics, and tips to make this program as smooth and enjoyable as possible. Thanks to our alumni volunteers for your partnership as on CNS 320 mentors!