You can now access your 1098-T tax form online via WIN. Please follow the steps below to access your form online.
1. Open a web browser and log into your alumni Gmail account (http://mail.google.com/a/alumni.wfu.edu).
If you've forgotten your username or password, please visit https://wakenetwork.wfu.edu and click on the "Forgot username or password?" link. When prompted to enter your email address, please submit the email address where you normally receive communications from Wake Forest, not your @alumni.wfu.edu address. If you reset your WakeNetwork password, please wait 20 minutes to allow that password to sync with Gmail.
2. After logging into your alumni Gmail account, click on the "Google apps" grid in the top right corner.

3. The "Google apps" grid will reveal a window. Click the word "More" at the bottom of this window.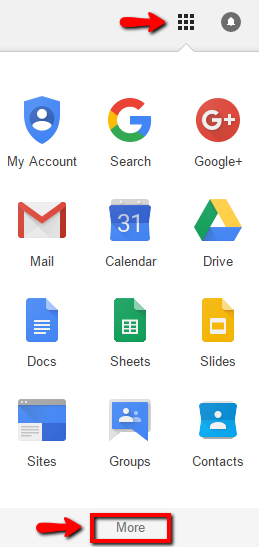 4. Click "WIN" and you will be authenticated into WIN

5. Once you are in WIN, click on the "Personal" link at the top
6. Select the "1098-T Tax Form" link.